iOS 13: beta, release date and feature list
New iOS 13 beta are here to fundamentally change the way you use your iPhone on a day-to-day basis, and we have been testing the public beta since late last month.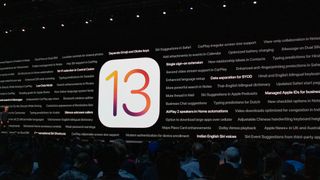 We have a complete iOS 13 features list below so you can determine if you want to
get iOS 13
public beta now or wait for the final version – likely arriving in September.
Dark Mode is our favorite new iOS 13 beta feature from Apple. It's the long-awaited UI tweak to invert those bright white-screen backgrounds. We're seeing the most improvement here in our
iOS 13 vs iOS 12
comparison.
The new QuickPath swipe keyboard is a big highlight, and the new to edit photos has made us open Lightroom less. Plus, as we explain below,
iPadOS
has been spun off from iOS as a separate operating system for iPads.
There's a lot to iOS 13, and iOS 13 developer beta 3 and public beta 2 just launched with a bunch of improvements. So we're here to explain all of the updates in full, and we'll start with the many-fanged release date schedule and all-important compatibility list.
iOS 13 release date and beta schedule
June 3: iOS 13 beta 1 and first look at WWDC 2019

June 17: iOS 13 beta 2 launched for developers

June 24: iOS 13 public beta release date for adventurous testers

July 3: iOS 13 developer beta 3 launch with some new features

July 8: iOS 13 public beta 2 release date

Early September 2019: iOS 13 Golden Master (final dev beta)

Mid-September 2019: iOS 13 likely to launch with new 2019 iPhones
The iOS 13 public beta release date was June 24, even though Apple said it wouldn't come out until July. It launched earlier than promised, but it's not a giant surprise for us. Last year's beta got here on June 25.
What's the iOS 13 release date schedule look like? We've mapped out an iOS 13 beta timeline: developers are on beta 3, testers are on public beta 2 and the final software is likely coming in September.
Here's the iOS 13 timeline as we see it:
1. iOS 13 developer beta:
The iOS 13 beta 2 is available today but restricted to paid Apple developers. Good news: unlike iOS 13 beta 1, iOS 12 beta 2 can be installed over the air (OTA), whereas beta 1 required Xcode or macOS 10.15 to be installed first. It's a bit easier to install, but you should probably wait for the public beta, which is always more stable, or upgrade to the dev beta on a non-primary device.
2. iOS 13 public beta:
Apple's larger-scale features test began on June 24, and is now on version 2 since July 8. Sure, Apple
said
July, but last year the iOS public beta launched on June 25, and sure enough, it came early in 2019. It's the version to download if you're curious – it's often more refined version of the iOS developer beta, although it can still be rough, and never includes all of the features implemented in the final version of the software.
3. iOS 13 golden master:
This will be the final version of the iOS 13 software, released one week before the final iOS release, meant for developers and public beta testers. At this point it's very stable, and gives app makers seven days to adapt to the final software.
4. The official iOS 13 release date:
We'll get the new iOS 13 software in its final, stable form about one week after the next iPhone launch event, at which we expect to see what we're calling (for now) the iPhone 11, iPhone 11 Max and iPhone 11 XR. The date? Probably mid-September (last year it was September 17).
iOS 13 compatibility list
iOS 13 requires iPhone 6S or later, iPad Air 2 or later, the new iPad mini 4 and iPhone SE

It won't come to older devices that support up to iOS 12: iPhone 5S, iPhone 6, iPhone 6 Plus, iPad Air, iPad mini 2 and mini 3
iOS 13 compatibility requires an iPhone or iPad from the last four years (depending on the device category). That means phones like the iPhone 6 won't be getting iOS 13 – if you've got one of those devices you'll be stuck with iOS 12 forever.
iOS 13 Dark Mode
Overdue Dark Mode is coming to iOS 13 and iPadOS

We saw macOS get a system-wide Dark Mode in 2018

Shortcut to black-and-dark-gray UI lives in Control Center
Dark Mode in iOS 13 is going to be system-wide, meaning it'll change the hues from bright white and light grey to black and dark gray on all supported apps.
It's a nice feature when you're using your iPhone at night and want to avoid bright white hues shining in your face. It may also save battery life on the OLED-equipped iPhones, from the iPhone X onward. Apple didn't talk about this at all, but we know that OLED displays essentially 'turn off' pixels when rendering blacks.
Turning on iOS 13 Dark Mode can be done in Control Center inside the Display slider (right next to the Night Shift and True Tone toggle), according to Apple, or you can set it automatically to turn on at night through a schedule or custom time.
The yellow-tinting Night Shift mode finally gets a bright-light dimming companion, and a lot of people couldn't be happier.
iOS 13 offers 'FaceTime attention correction'
This is an interesting one. There's now an option for FaceTime Attention Correction, according to registered iOS 13 beta testing developers, and it's wild.
What does it do exactly? It makes it so that it appears as if you're looking straight into the front-facing camera during a FaceTime video call, when you're actually looking at the adjacent screen. That distracted look could be a thing of the past soon.
iOS 13 on iPad is iPadOS, and it's a big change
Some of the biggest changes we expected for iOS 13 on the iPad are actually coming in an update called iPadOS. Apple is signaling that the iPad needs its own platform.
That means big improvements to your iPad workflow, starting with the home screen redesign. Pinned Widgets, as we predicted in our iOS 13 rumors roundup, lets you add widgets from the Today View screen (that left-mode screen on your iPhone and iPad). So far, it's iPad-exclusive, and not coming to iOS13 for the iPhone.
Slide Over lets you have multiple apps open and cycle through them like rolodex. You can also fan to preview them all at once with a swipe gesture, kind of like the recents menu on many phones and tablets. It's multi-tasking made easier.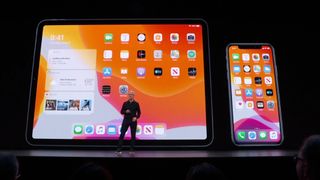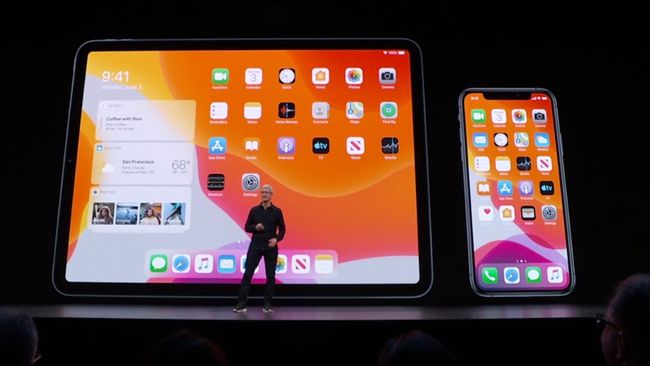 Split View has been enhanced to let you open one app on both sides of the screen (it wasn't possible before), and Apple demoed this by showing Notes side-by-side with Notes. You can also pair an app with more than one app – so now Safari can be paired with Pages in one space and Safari can be paired with Mail in another.
App Expose is new to the iPad software, letting you see all of the space you have open. There's an App Expose icon on the Dock, requiring only a single press to get into the convenient overview mode.
New copy, paste and undo gestures are coming to iPadOS. Three fingers scrunched down was shown to copy text, three fingers expanding (in the opposite direction) dropped the text on the page, and sliding three fingers across the screen undid the last action. We'll have to see how this performs when the software lands.
Apple's keyboard can float around the screen in a smaller form, and it's debuting a swiping gesture keyboard, which it calls QuickPath Typing. There are also more keyboard shortcuts (a lack of shortcuts was a complaint we had about previous iOS versions).